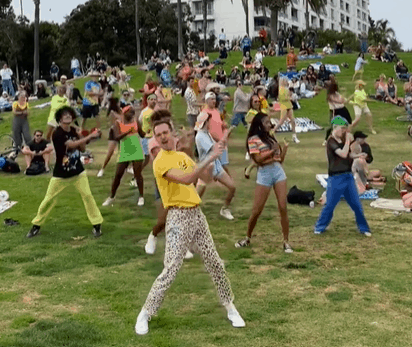 Remember when Flash Mobs were a huge thing?
They were everywhere! A seemingly normal crowd would suddenly break out in song or dance. Over time the events and the viral videos slowly faded away.
Then I saw this video on Instagram.
Bob's Dance Shop has been posting dance photos and videos in Los Angeles since 2019. The account has blown up recently, especially after one of their recent videos went viral. Take a look at this moment they created – they call it a "Flash Bob." It's in two parts…
View this post on Instagram
View this post on Instagram
Their Instagram and YouTube channels are full of videos like this oozing positive energy. They say this is the Flash Bob that started it all, on the street in Santa Monica, California in 2017…
Here's another Flash Bob they put on in San Francisco…
View this post on Instagram
Here Bob's Dance Shop explains why they put the work into these events…
What a beautiful experience to be alive, breathing and dancing together in community again.

We are in a vital time where our world needs healing. The law of life says "movement activates movement" so we're out here moving and grooving, making waves and sending them "around the world". Our intention is to bring joy to the ordinary moment. To find peace with our past, love in our present and an openness to our future.

We want to inspire people to be spontaneous, creative, courageous and boldly themselves. To choose Love over fear, always and forever.

We live in a stiff and cold world where everyone wants to dance but has forgotten where to find the courage. We're here to bring the heat, melt the ice and get you on the dance floor.
You can follow them on Instagram and YouTube!
Comments
comments