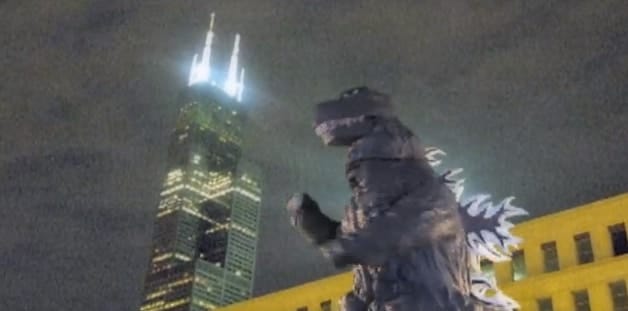 I can't say I'm the biggest expert on these things, but this 90-minute Godzilla fan film is just all kinds of awesome.
On this today's WGN Morning News, I went to visit Elmhurst's Billy DuBose. He's a marketing assistant as National Lift Company, but in his spare time over the last four years, he was hard at work in his garage – directing a feature-length fan film featuring his favorite movie monster.
Godzilla.
We talked with both Billy and costume designer / suit actor Jacob Baker in the very garage where much of the green screen work on "Godzilla Battle Royale" was shot. They told us all about the hard work they put into the film, designing their own costumes, and why Godzilla means so much to them.
The movie is premiering tonight at the Pickwick Theater in Park Ridge. Here is more info….
Godzilla Battle Royale
Pickwick Theater
5 S. Prospect Ave, Park Ridge
6-10pm Tonight, FREE
facebook.com/godzillabattleroyale
But if you can't make it, the entire film is on YouTube right now for your viewing enjoyment. Watch it below!
Comments
comments