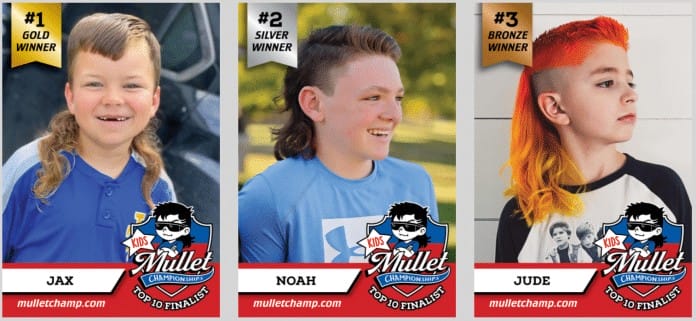 Business in the front. Party in the back. The USA Mullet Championships are here to show us the best mullets across the country.
Yes, this is a real organization. Back in September, they put out a call to kids across America asking for pictures of their mullet haircuts. More than 20,000 people submitted their votes, and a winner was crowned.
8 year-old Jaxson Crossland of Celeste, Texas was the top winner. CNN talked to his mom, who said Jax has been ecstatic since he was announced the winner. He says he has been asked to sign some autographs, but he can't because he hasn't learned cursive yet.
In addition to the title of USA's best mullet, Jax gets a $500 cash prize and a gift card package. Runner up was Noah from Illinois who gets $200 and some sunglasses. Third place went to Jude from Colorado who gets $100 and some sunglasses as well.
You can see all of this year's winners on the USA Mullet Championships website. The site is full of all kinds of mullet information and past history. They say the mullet has been around since at least Ancient Greece…
..where the style was as much for function as it was for fashion. Cropped hair around the face with longer locks in the back allowed for both visibility and a protective layer of hair for your neck. Homer even described a haircut that sounds eerily familiar in The Iliad: "their forelocks cropped, hair grown long at the backs." The Greeks weren't the only ones sporting the mullet, though. There is evidence that Neanderthals and our oldest ancestors would wear this 'do, as well.
They also say the mullet is seeing a resurgence in popularity like so many other things from the 1980's.
As always, you can see more trending news here. 
Comments
comments