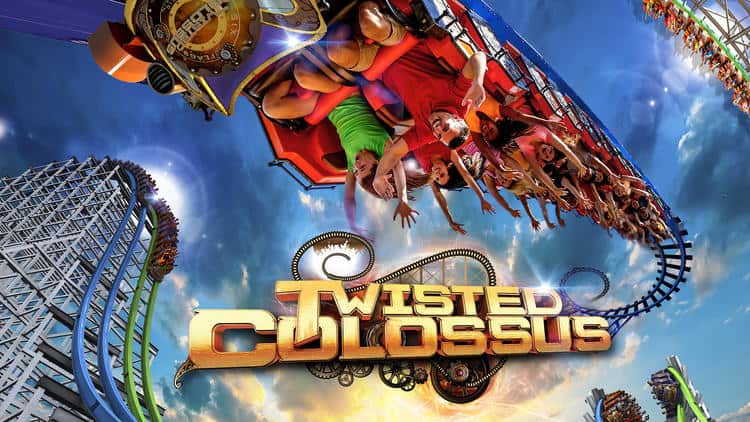 Of all of the new attractions coming to theme parks in 2015, this project could be the most interesting.
Colossus, the classic wooden racing coaster at Six Flags Magic Mountain, is undergoing a major renovation. More like a major upgrade – depending on how you see it, I guess. The Rocky Mountain Construction team will be transforming the two-tracked racing coaster into a one-track steel-wood hybrid coaster that will take riders up the same lift hill twice and have two trains dueling around each other.
Make sense?
Here are some of the elements the ride will feature, according to the SFMM website…
"Top Gun Stall" – an inversion where the train slows down upside down

Western Hemisphere's first "High Five" – where two trains pass through an overbanked turn facing each other with the illusion that you can reach out and "high five" other riders

Zero G Roll where track twists 360 degrees

A staggering 128-foot drop at an amazing 80-degrees

18 airtime hills

Two lift hills

Four minutes of thrills on nearly 5,000 feet of track – longest hybrid coaster in the world
18 AIRTIME HILLS. Sorry, just wanted to point that out.
It took me the better part of the day to wrap my head around how this thing will work. Basically, they are taking the two tracks from the old coaster and combining them into one, with a bunch of insane maneuvers throughout. If the operations team gets it right, it could be an absolute blast to ride. Here's how the LA Times describes what it will take…
The track will be two colors — blue and green — to indicate the two legs of the trip. In all, riders will experience 18 airtime hills, two lift hills, two 80-degree drops, two zero-G roll inversions and two passes through the high-five element. It's enough to take your breath away just thinking about it. The new Twisted Colossus dual-lift coaster will require precise timing to dispatch one train every 110 seconds so that riders on both tracks will simultaneously climb the parallel lift hills and navigate the high-five element together.
It's amazing to see the kinds of things a company like Rocky Mountain Construction is able to do with existing rides. Who knows….could an American Eagle upgrade be in the works someday? Probably shouldn't have brought that up. We'll keep you updating on opening dates for this thing – it's high atop my list of must-rides. Here's the Colossus promo video…
Comments
comments