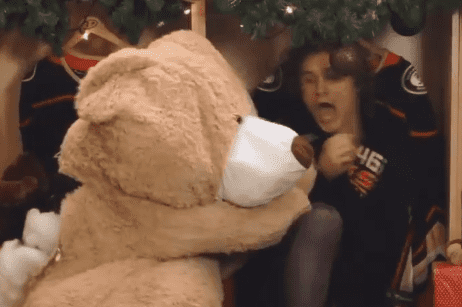 Players on the NHL's Anaheim Ducks thought they were recording a simple promo for the holiday season.
What they didn't know? Their teammate Kevin Shattenkirk was hiding inside a giant teddy bear, ready to jump out when they least suspected it.
Meanwhile, their other teammate Max Jones was watching a live feed of the cameras behind the scenes, telling Shattenkirk what to do in that big bear costume. A few players seemed to know something was up from the start. Others were shocked enough to jump right out of their seat.
The Impractical Jokers would be proud.
Watch the Anaheim Ducks holiday prank video here….
Our Ducks got quite the surprise when they were asked to do "holiday messages." 😂 #FlyTogether pic.twitter.com/RLuydzDNaa

— Anaheim Ducks (@AnaheimDucks) December 21, 2021
You can find the full writeup on the Anaheim Ducks holiday prank video at NHL.com.
More Trending News here
Comments
comments