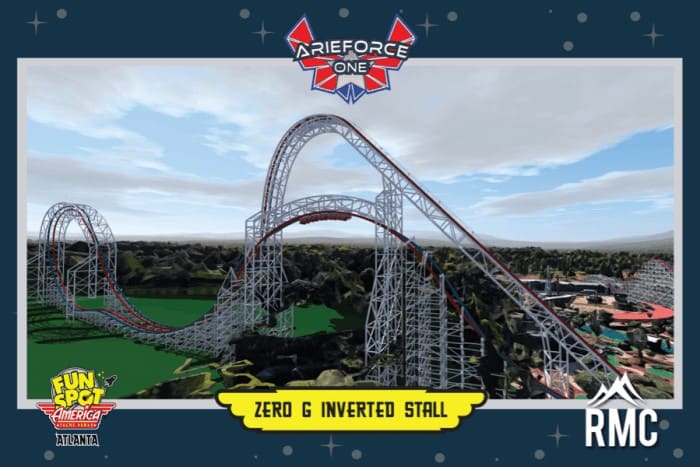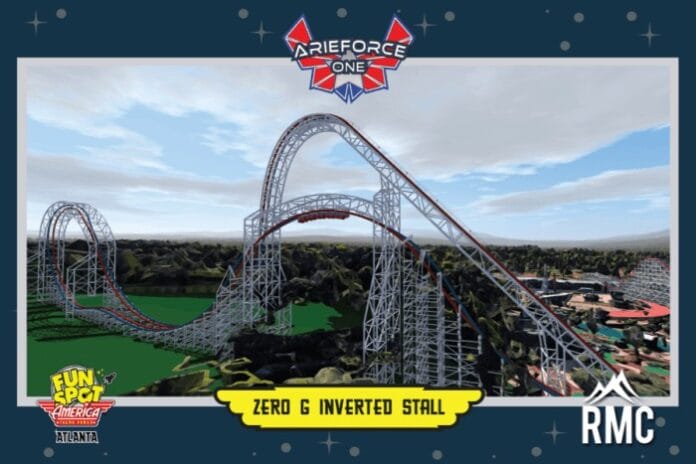 The International Association of Amusement Parks and Attractions – or IAAPA – kicked off their annual convention in Orlando yesterday. We usually get a few reveals at this expo every year and we had a big one yesterday.
Fun Spot Atlanta officially unveiled their new ArieForce One roller coaster designed by Rocky Mountain Construction. It was no secret that Fun Spot had been working with Rocky Mountain on a coaster – they've been teasing the project for a while now. Yesterday we got our first official look at the full layout and all of the specific elements that will be featured.
https://twitter.com/marcusleshock/status/1460951857086541826
You might be wondering about the name. ArieForce One is named in honor of Fun Spot's founder John Arie, Sr. The ride's theme comes from his love of flying and all things space travel. The park says the queue line will continue this theme as well.
So what about the ride itself? Here are some of the details from the park's official press release…
Themed queue lines based on John Arie Sr's boyhood passion for flight;
Two state of the art 20 passenger steering axle trains that just scream high speed thrills;
3,400 feet of RMC's award-winning patented steel Ibox track;
A HUGE tension-building ascent up a towering,154-foot lift hill;
Reaching incredible speeds up to 64 mph;
Intense ride elements including a steep, 83-degree first drop and the largest Zero-G Stall in America;
Four exciting inversions including a first ever Raven Truss Dive, two Zero-G Rolls and a 180-degree stall.
Fun Spot Atlanta put out a teaser video that shows a lot of these elements in action. Take a look…
And the team from CoasterForce was at IAAPA for the reveal. They captured these shots of the car after its big unveiling…
https://twitter.com/CoasterForce/status/1460686748443365382
Here's a shot they took of the ride's full layout. I love how all of the great Rocky Mountain Construction elements are incorporated, from overbanked turns, tons of airtime to a QUAD DOWN to finish the ride.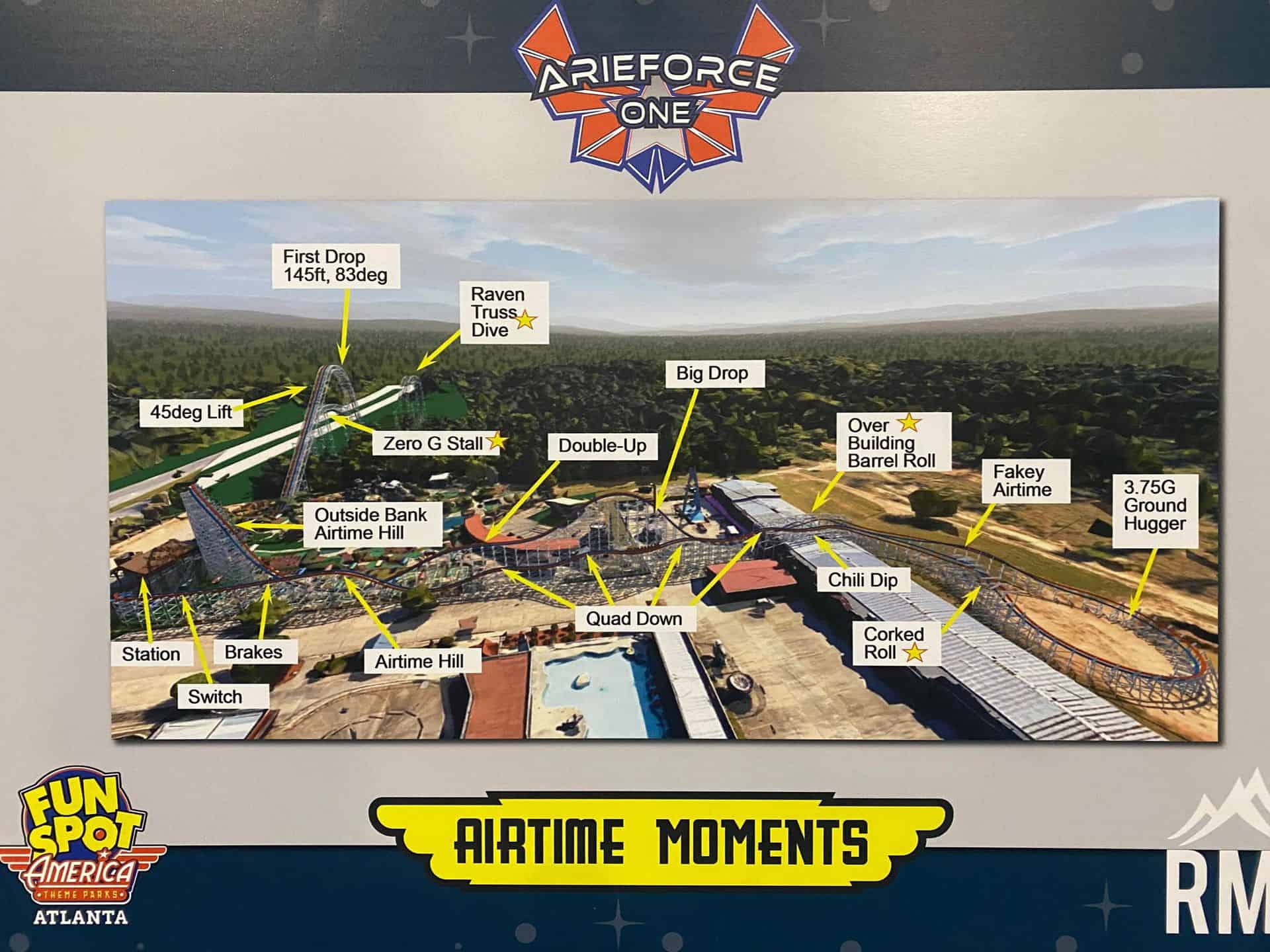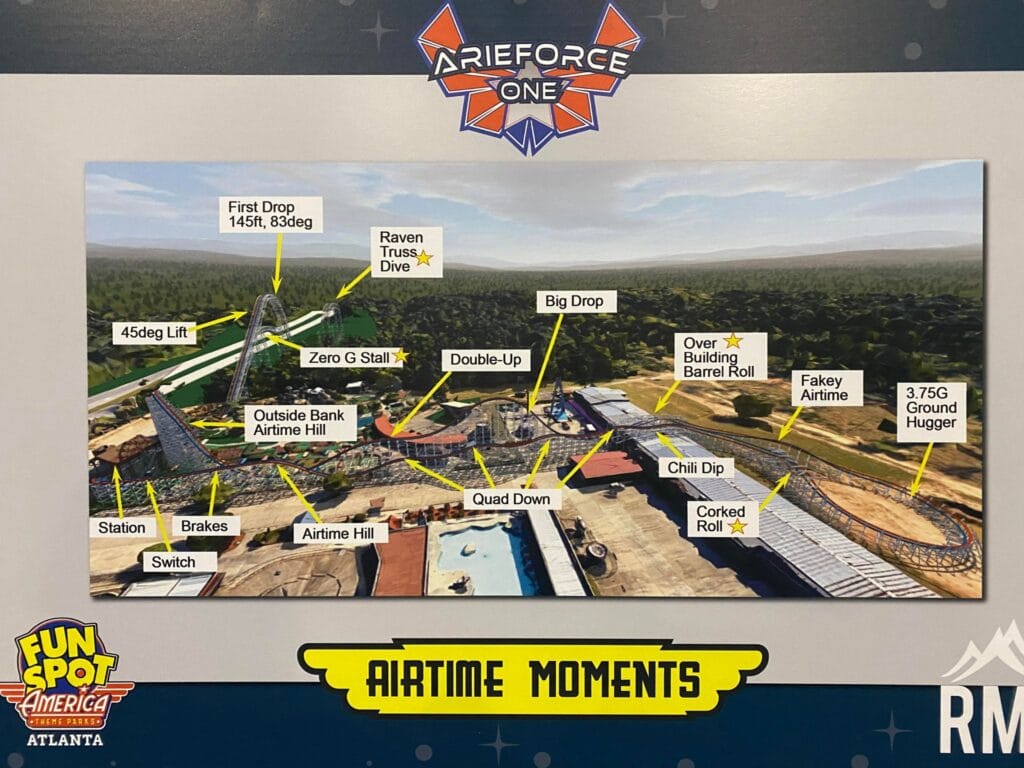 Fun Spot is spending $13 million on this coaster, the largest single investment on any ride in the company's history. It's a big play for them, a move that will put them on the map for enthusiasts like me. I know I will be going out of my way to get to Atlanta to ride this when it opens. I suspect many others will do the same. It's not clear when the ride is scheduled to open – right now the website says "coming soon."
What do you think about ArieForce One? Are you as excited for this as I am?
You can read more about ArieForce One here. 
See more of the latest trending news here. 
More theme park coverage here. 
Comments
comments