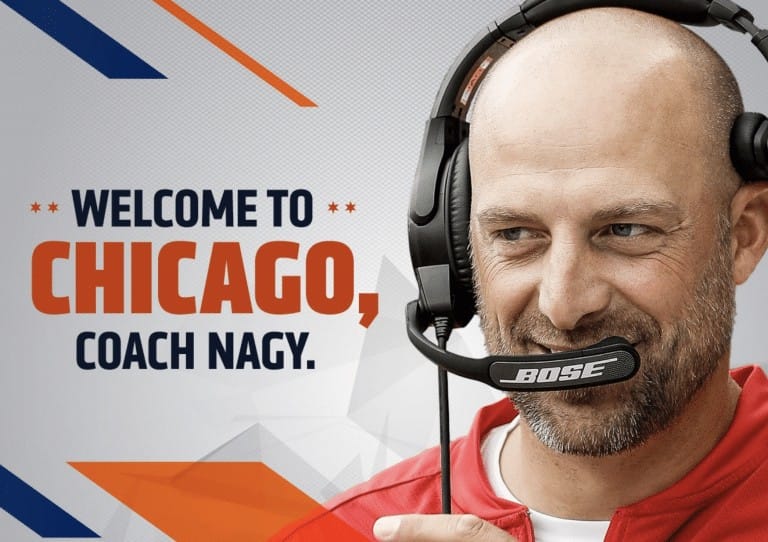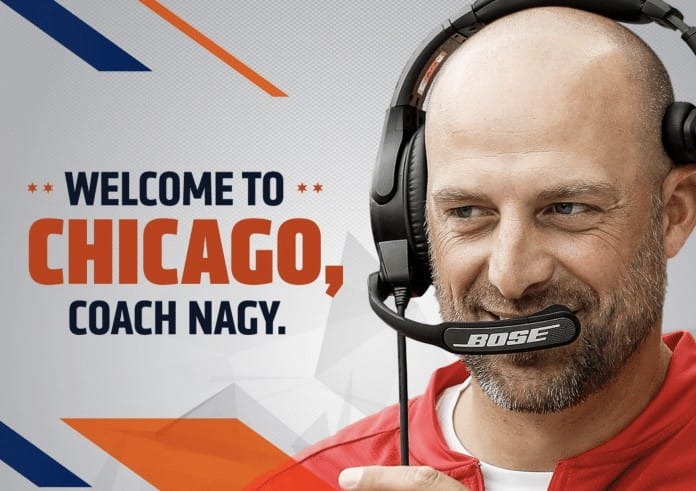 Ryan Pace made his choice.
Just one week after announcing the firing of John Fox, the Chicago Bears have made it official – former Kansas City Chiefs offensive coordinator Matt Nagy will be the 16th head coach in franchise history. Nagy took over the play calling duties from Chiefs head coach Andy Reid this season and had some success. We're going to be hearing a lot about Nagy over the next few days, here is some of the early reaction to the announcement.
First we go to Kansas City, where the consensus seems to be that this was a great move by the Bears. Here's a post from the Kansas City Star calling it a "smart move" and that Nagy is "one of the best head coaching candidates Reid has had in Kansas City (better than the Eagles' Doug Pederson):"
"What Bears fans should really like is Nagy's creativity and knack for calling plays. Since he took over as the primary playcaller for coach Andy Reid in early December, the Chiefs' offense came alive again after a miserable two-month slump, as Nagy consistently dialed up the zone-running plays they used to so much success earlier this season. Nagy is a sharp guy who also increased the reliance on run-pass options that Smith likes so much and cut down the "trick-ya" plays the offense had grown too fond of."
The MMQB has a piece on what Nagy's hiring could mean for Mitchell Trubisky:
"Let's assume Nagy's philosophy is similar to that of the only NFL boss he's ever known, Andy Reid, who brought Nagy into the NFL as an Eagles intern in 2008. In that case, the Bears will run a highly schemed West Coast-style offense, with multiple moving pieces built into the same play design. It's a great fit for Mitchell Trubisky, whose NFL success will hinge predominantly on timing and rhythm throws."
ESPN's David Kaplan says Nagy loved what he saw from Mitchell Trubisky going into the 2017 NFL Draft….
Here is a great piece of intel: Source close to Matt Nagy tells @ESPN1000 that Nagy loved Trubisky in 2017 NFL Draft and the Chiefs loved him. Nagy has stayed close to him during this season. Nagy believes you can win big with Trubisky.

— David Kaplan (@thekapman) January 4, 2018
ESPN's Chris Mortensen says Nagy will be the one calling the plays in Chicago:
Bears new HC Matt Nagy will also be the play-caller for QB Mitch Trubisky, per sources. Bears would like to keep DC Vic Fangio but know Fangio has lot of options.

— Chris Mortensen (@mortreport) January 8, 2018
Who is Matt Nagy? Chiefs.com has a great long read about how he got to where he is in his coaching career at just 39 years old. It's a Kurt Warner-esque story – he was selling real estate at one point to provide for his family.
Pro Football Weekly has more details on how Ryan Pace made sure he got his man and what kind of scheme Nagy made run in Chicago:
"Looking at the Kansas City offense what should be exciting to Bears fans is the extensive use of RPOs (run-pass option plays). Kansas City incorporated RPOs because of quarterback Alex Smith's outstanding athleticism. While Trubisky was at North Carolina that is the type of offense he was in. Nagy's offense should fit well with Trubisky's skill set."
Arrowhead Pride has more on how the Chiefs offense changed when Nagy started calling plays there:
"Combine the RPOs, the build off of those RPOs, the playception I wrote about this week, and the vertical passing game, and the Chiefs had more control on offense than they've had in a while. And enough explosive plays to make a Madden game self destruct. Nagy did an excellent job of stressing defenses in a lot of different ways, and in more space. The success they had was a result of that."
And here is more reaction on Twitter…
We have officially named Chiefs offensive coordinator Matt Nagy as our new head coach.

Welcome to Chicago, #HeadCoachNagy. 🐻⬇️ pic.twitter.com/3bcZ0OJOEV

— Chicago Bears (@ChicagoBears) January 8, 2018
Big fan of #Bears hiring Matt Nagy. I think he'll really help out Trubisky as long as they can put some skill talent around him at WR.

— Connor Rogers (@ConnorJRogers) January 8, 2018
Matt Nagy should significantly expedite the development of Trubisky. Good hire.

— Ian Kenyon (@IanKenyonNFL) January 8, 2018
So we now have two former Arena Football League QB as @NFL head coaches. Jay Gruden and Matt Nagy.

— Andrew Siciliano (@AndrewSiciliano) January 8, 2018
Matt Nagy is an excellent choice coming from Andy Read tree. He is the only guy that Andy ever gave playcalling duties to and did a remarkable job. Says a lot Now he has to put a staff together and that's the tough job

— Greg Gabriel (@greggabe) January 8, 2018
Matt Nagy might be a year early as a HC hire but he's a tremendous coach. Rather be a year early than a year late. He'll open up the offense for Trubisky. Will develop WRs. Really like the hire.

— Matt Miller (@nfldraftscout) January 8, 2018
The Andy Reid coaching tree is pretty stellar as it includes John Harbaugh, Ron Rivera, and Doug Pedersen.
With that in mind, for what it's worth, Reid called Matt Nagy the best assistant on any side he's ever had.

— Robert Zeglinski (@RobertZeglinski) January 8, 2018
So now 7/32 head coaches in the NFL will be from the Andy Reid coaching tree. More than 20 percent!

Reid – KC
John Harbaugh – BAL
Ron Rivera – CAR
Doug Pederson – PHI
Todd Bowles – NYJ
Sean McDermott – BUF
Matt Nagy – CHI

If Pat Shurmur lands a gig, 1/4 of NFL = Reid tree.

— Will Brinson (@WillBrinson) January 8, 2018
Wouldn't be surprised to see new #Bears HC Matt Nagy make a big run at #Chiefs FA WR Albert Wilson this off-season.

Smart, athletic WR. Loved by his coaches.

— Benjamin Allbright (@AllbrightNFL) January 8, 2018
A taste of some of the creativity Matt Nagy could bring to the #Bears offense. A double-fake screen in the red zone that ends up as a tight end screen all along and goes for 16 yards? I dig it. pic.twitter.com/8KoxaMn90z

— Khari Thompson (@kdthompson5) January 8, 2018
Look for Bears incumbent QB coach Dave Ragone to remain on Matt Nagy's staff. Not only did Bears respect his work with QB Mitch Trubisky, but also Rags and Nagy share the same agent.

— Rich Campbell (@Rich_Campbell) January 8, 2018
Comments
comments