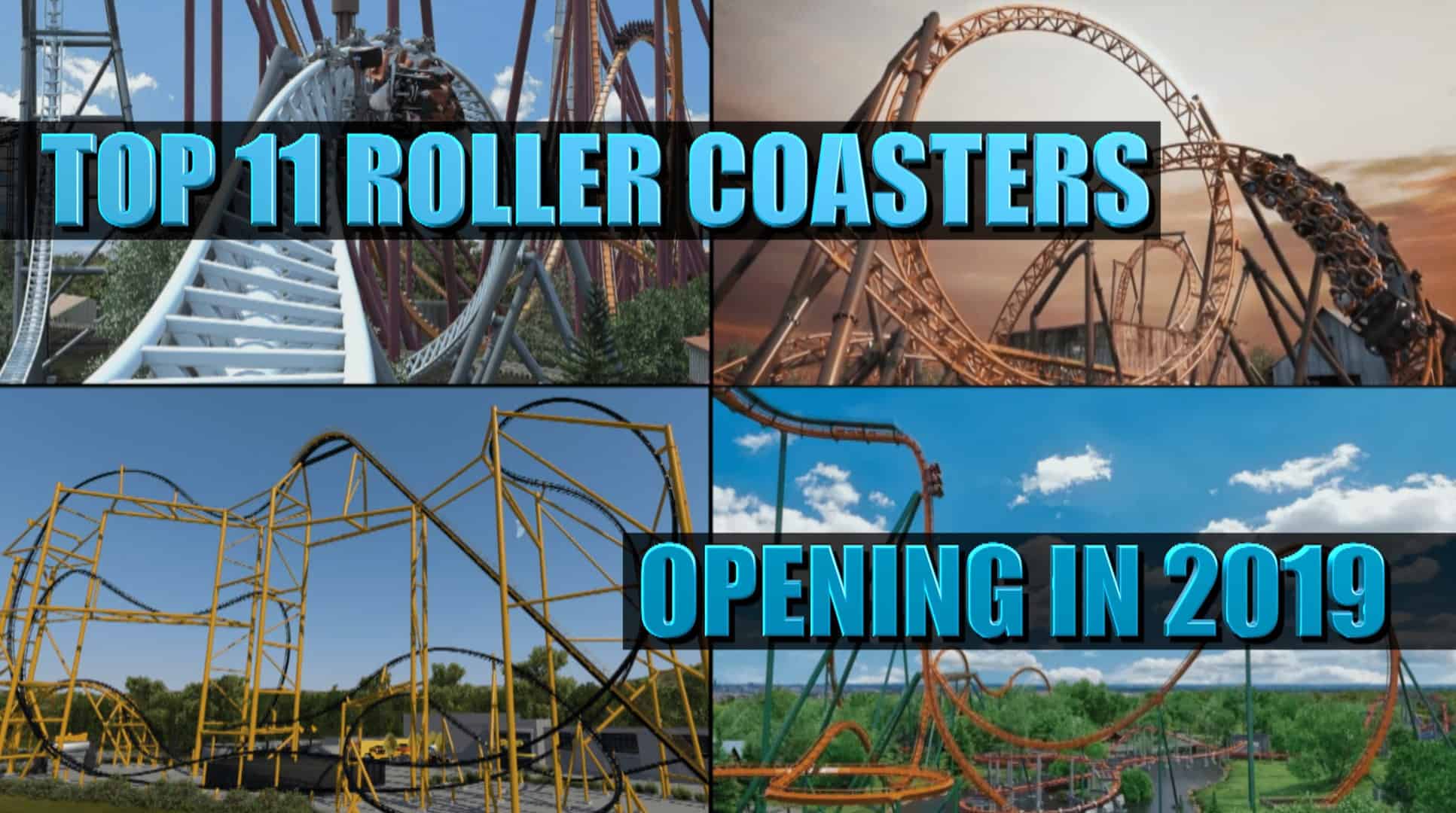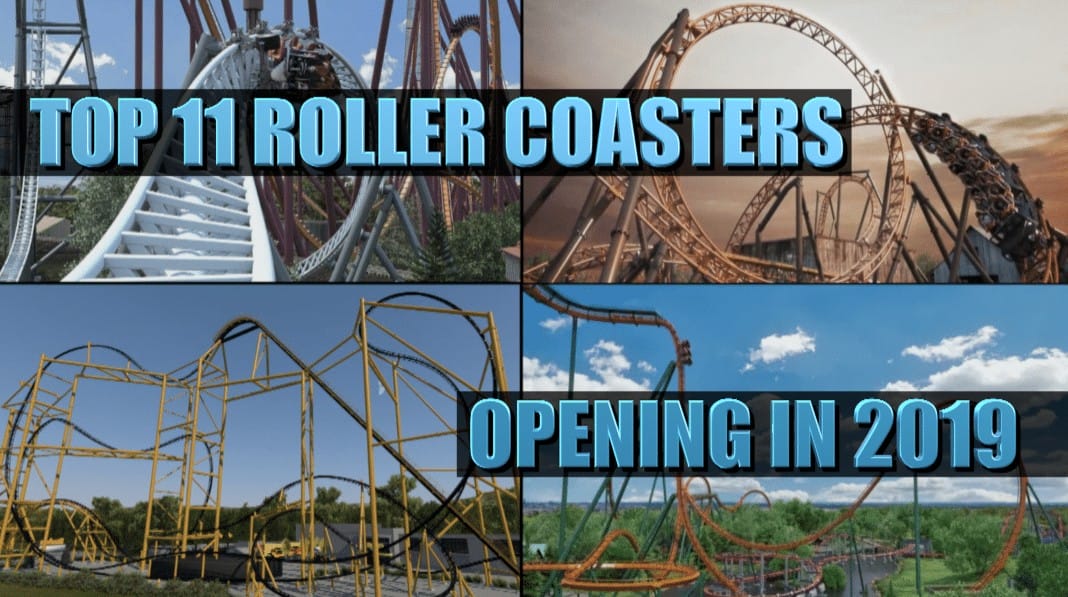 It's January 2nd. It's cold outside. Snow is on the ground. Holiday in the Park festivities are over. The long, grueling off season is upon those of us who choose to live in cold weather regions.
It's a good time to dream about the better days ahead. There are some really great roller coasters opening in 2019. 
I decided to countdown the 11 rides I'm looking forward to riding the most. This list is completely subjective. I'm excited for ALL of these rides, but you have to have some priorities, right?
Let's get to it! Here our my top 11 roller coasters opening in 2019.
It stands just 16 feet off the ground? Yep. It tops out at just about 30mph? Yep. Yet still, Tidal Twister is interesting. It's a powered coaster that travels on a single rail with two trains that appear to duel each other. That could be fun enough.
Should this be considered a roller coaster, though? Does it ever actually coast on its own power? We can debate that when we see it in action, but to me, it's all about whether or not this thing is fun to ride. It looks like that could be a big yes.
I cannot wait to see what Dollywood's Wildwood Grove will feel like in person. The park is adding a massive expansion with all kinds of attractions, including a Vekoma suspended roller coaster. Judging from the construction pictures and videos from enthusiasts like the one you see above, this thing looks like another solid edition to the park. I love that Dollywood is investing in attractions that target intermediate riders. I'm talking about people who are ready to move on from kiddie rides, but might not be ready for the intensity of a Lightning Rod. Firechaser Express is one of my favorite roller coasters in this category, and Dragonflier looks like it could be another solid addition. Can't wait to see an official POV.
I was pronouncing this incorrectly for way too long. It's TIE-gris, like tiger. Why was I saying Ti-gris like tigger? That's why you come to me for hard hitting coaster analysis. Anyhow, Tigris is builded as Florida's tallest launch coaster. It's made by Premiere Rides. It will launch you forwards and backwards until you get enough momentum to hit the inversion 150-feet in the air.
The park has been posting some really fun construction updates, too. You can see one of them here…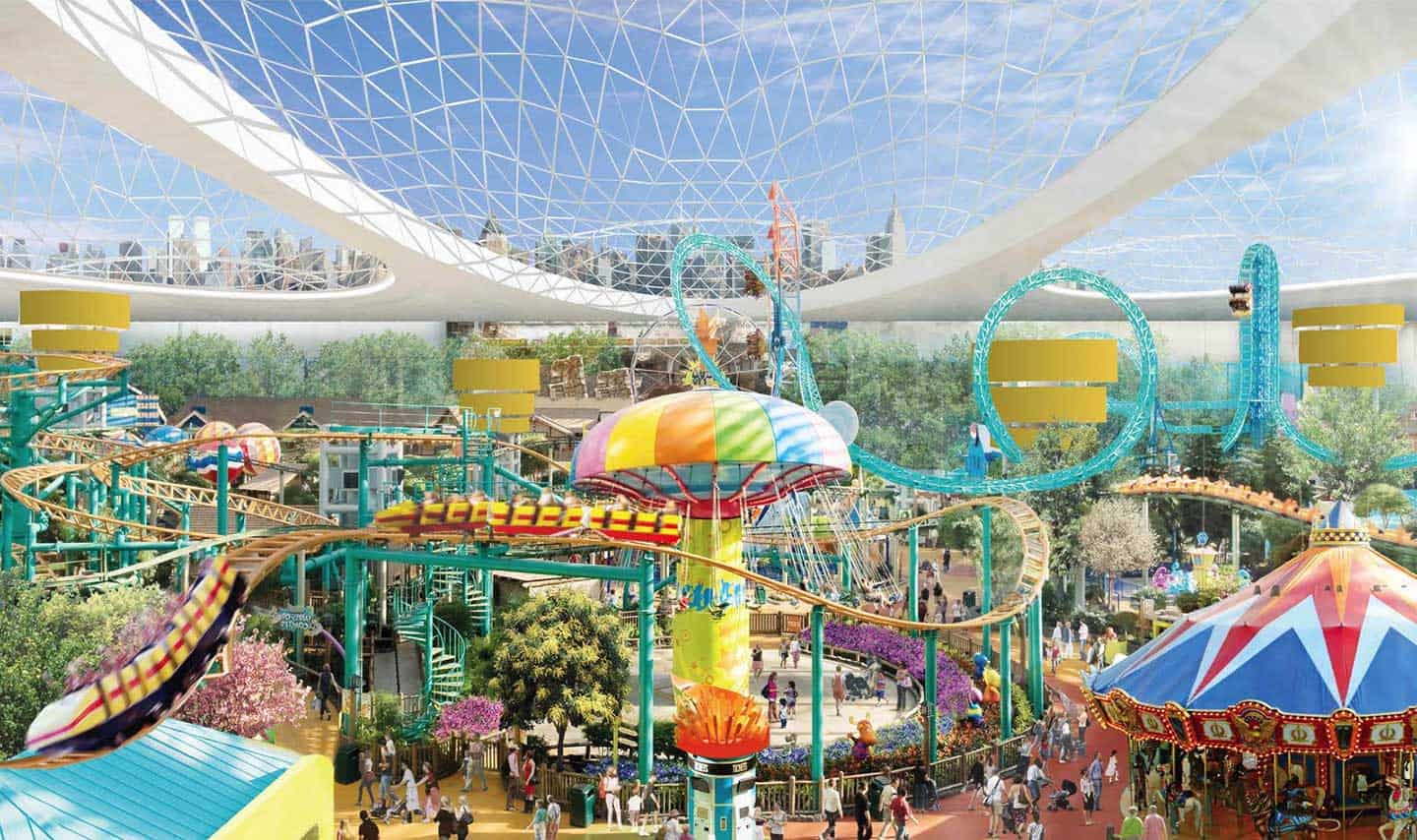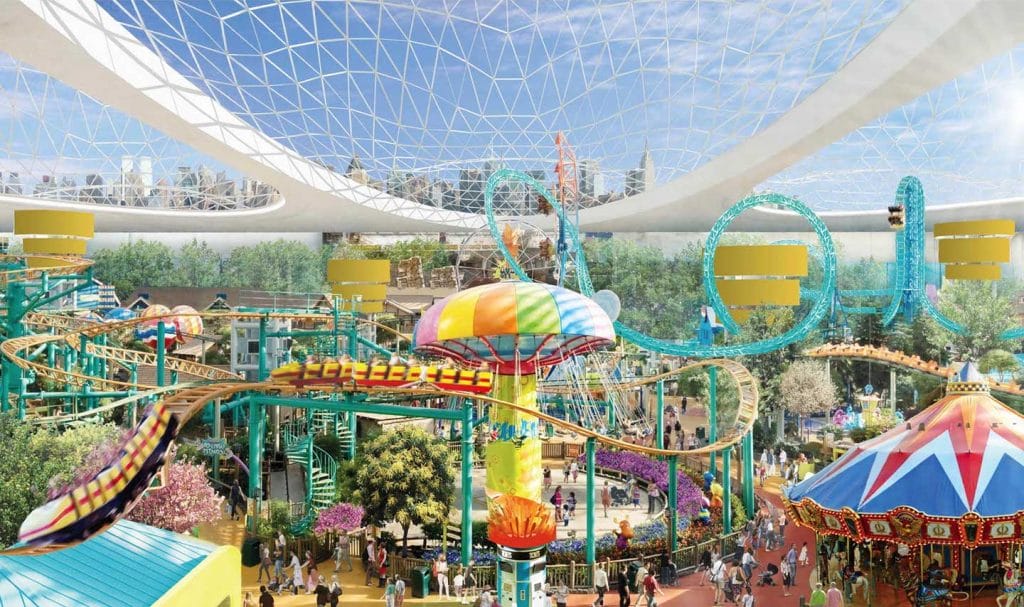 You've been to shopping malls. Maybe you've been to shopping malls that have rides in them. This is not one of those shopping malls.
American Dream is being built about 4.5 miles outside of New York City and it's billed as an "experiential complex." It's a shopping center for sure, but they say 55% of the complex will be geared towards entertainment. Phase 1 of this thing is 3 MILLION square feet. That's big.
A big part of the complex will be an indoor Nickelodeon Universe theme park that will feature two record breaking roller coasters. One will be a Eurofighter style coaster that will take you straight up vertically until you clear the roof of the building. When you're up there, you'll be in a glass tower where you can admire the Manhattan skyline. Then you go down the 121.5 degree first drop. That's the steepest drop of any coaster in the world. They're also building the world's longest spinning coaster. This place looks like it will be a must visit whenever it opens.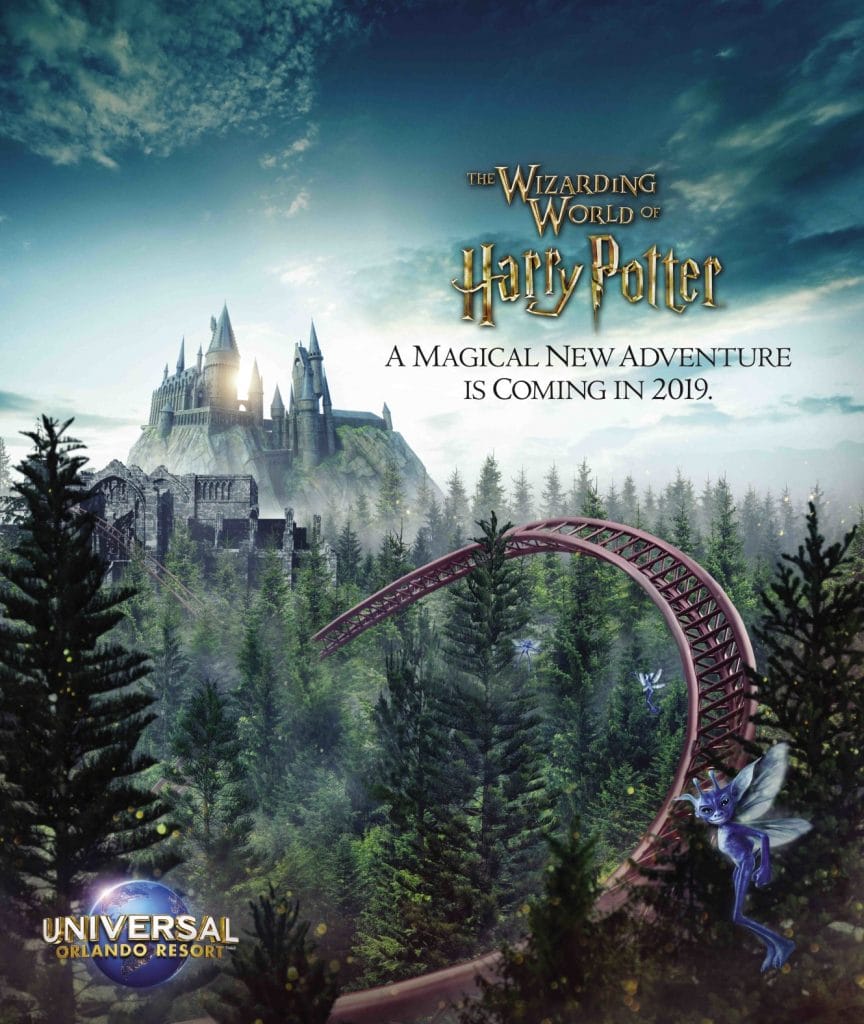 We don't know much, at least officially, about what Universal Studios is building in the place of the old Dragon Challenge ride. That ride had two dueling inverted coastersr. I never rode it, but I knew people who LOVED that ride when the coasters actually used to duel each other. Universal shut it down to make way for this new Harry Potter concept. Again, they haven't said much, but the teaser art you see above leads us to believe it will have a Forbidden Forest theme to it. They're also building some kind of indoor structure. It appears you will travel inside and outside during the ride.
They've done a great job at keeping this under wraps, but it has been fun to read all of the rumors and predictions. Here's one of the more thorough predictions I found. Imagine if this ends up being accurate? Oh boy…
It was great to hear that Kentucky Kingdom cleared some hurdles to make this new roller coaster a reality. It's a Gravity Group wooden roller coaster that will be perfect for those younger riders looking to take that next step onto something more thrilling. It features a 45 foot drop and a 35mph top speed, but the big selling point here, the height requirement is just 40 inches! That's pretty cool.
Can you believe I've never been to Magic Mountain? It's embarrassing. As your Roller Coaster Bureau Chief I am ashamed. Add this to the ever growing list of reasons why I must finally make my first visit.
West Coast Racers is a Premiere Rides concept that will feature two trains racing each other, all of it themed after the West Coast Customs team. You'll hit a top speed of 55mph with all kinds of crazy turns and inversions, then you go back inside before launching AGAIN on the other track. It will be a three minute ride overall. Sounds like yet another really fun concept Magic Mountain. 
4. Steel Curtain – Kennywood
It's too bad they're launching a Pittsburgh Steelers themed roller coaster after such a disappointing end to their season. The ride looks to be as wild as the stories coming out of the locker room.
Steel Curtain is an S&S coaster featuring a chain lift that will take you 220 feet into the air. You'll hit a top speed of 75 miles per hour before hitting nine inversions. That's right. NINE. That's a North American record. One of those inversions is 197 feet in the air. That's another record. 
Cedar Point's Valravn was my first ever B&M dive coaster. At the time it was the biggest one in the world. Not anymore.
Canada's Wonderland, a fellow Cedar Fair park, steals that title with Yukon Striker. The first drop is 245 feet – 90 degrees straight down! And you drop into a tunnel that looks way too small to be possible from that high in the air. Hanging from the drop and looking at that tiny opening is going to be something special. It also features a fun vertical loop. I will be taking my first ever trip to Canada to ride this thing. Can't wait.
2. Copperhead Strike – Carowinds
This Mack rides concept starts with a twist, putting you right into a slow barrel roll as you leave the station. It's a sign of fun things to come as the ride takes you through multiple launches and all kinds of neat inversions.
Oh, and it's LONG. Check out the POV above. This is sure to become a park favorite and looks very re-rideable. Pumped for this.
Come on. You know I had to rank this #1. It's my home park and I was absolutely SHOCKED when this was teased and then announced. Heading into last season and looking ahead to 2019, I thought something like a water coaster would have been in the works. Down the line people dream about the American Eagle getting RMC'd. But never did I imagine they would tear down the Pictorium to squeeze in a full circuit launch coaster. Oh, and a full circuit launch coaster with a North American record for fastest acceleration on a launch? I was blown away.
This S&S air launcher will send riders from 0-78mph in 1.8 seconds. That's insane. Think about it. Count to two while you're sitting down. Now imagine before you hit the number two you will be traveling at nearly 80 MILES PER HOUR.
I've never been on any of the other S&S air launchers that feature this kind of power. Dodonpa uses the same technology but goes even faster, sending you to 111mph in that same time. Robb Alvey of Theme Park Review posted a video showing what this feels like..
Bullet Coaster in China is a similar speed to what you'll find on Maxx Force. The launch hits about 83mph…
Maxx Force will feature an inversion at the top, as well as what they're calling the world's fastest inversion later in the ride. It will be a short ride, but really, you're going on this thing for the launch. And the launch will have an AIRTIME HILL on it. What?
It's going to be fascinating to see this thing go up and how they were able to fit it into such a tight space. So excited for this launch and I'll be bringing you as many construction updates as I can throughout the off season. Here are a few of my updates so far!
What do you think? What roller coasters opening in 2019 are you looking forward to riding the most?
Comments
comments