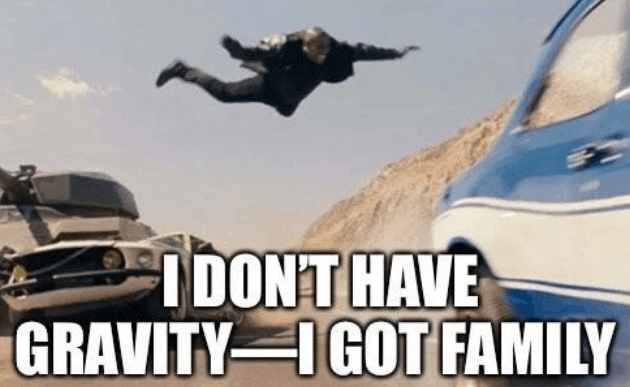 I don't have friends. I got family. 
If you have seen any of the "Fast and Furious" movies, you know how much Vin Diesel's Dom Toretto values his friends. They aren't friends.
They're family.
With "Fast 9" still dominating the box office, fans have taken to social media to share some hilarious Vin Diesel Family Memes. We're talking all of the ways Dom is showing that he appreciates his fam.
Check out some of the best Vin Diesel Family Memes below…
IN SPACE
Vin Diesel memes are amazing pic.twitter.com/MN7V3eFu1Y

— Gamer (@gamingbro6969) July 5, 2021
DOGS ARE FAMILY
Vin Diesel in John Wick universe. pic.twitter.com/MATwe9FRnh

— Shivam (@ShivamChatak) July 5, 2021
LOOK OUT THANOS
"Thanos is strong but not as strong as family" : Vin Diesel pic.twitter.com/UgGGosmR4H

— Shivam (@ShivamChatak) July 5, 2021
THE LION KING
https://twitter.com/batman_fh/status/1412078744504786955
GRAVITY MEANS NOTHING WHEN YOU'VE GOT FAMILY
https://twitter.com/LucePlaysPS5/status/1411981481170309121
LOOK OUT LOKI
If Vin Diesel fought Loki in Avengers pic.twitter.com/3Ji5r9vZ8u

— Shivam (@ShivamChatak) July 5, 2021
KEVIN!
https://twitter.com/Rolo_oc/status/1412141697853792261
THE GOD OF FAMILY
I'm loving the Vin Diesel/Fast & Furious/Dom/Family memes. Brilliantly daft. pic.twitter.com/7y96pNB0Fh

— Prork (@Prork) July 5, 2021
FAMILY RESTAURANT
If vin diesel worked in a restaurant pic.twitter.com/tbV9FaWDis

— X (@seedat62) July 5, 2021
MOVE OVER LIGHTNING
So that's what happened to Lightning Mcqueen pic.twitter.com/v1zmeHtq1z

— Cursed Animation tweets (@CursedAniFrames) July 5, 2021
WITH THE FAM!
Vin diesel memes is what's carrying 2021 pic.twitter.com/5h24Rnw9Rh

— dhanush (@DhanushrenK) July 5, 2021
JURASSIC PARK
idk why all of the sudden I'm seeing vin diesel memes on my timeline, but i laugh at every one of them and i love it!

Anyone have a favorite vin diesel meme? post it below! pic.twitter.com/s2FB1jrMwA

— ᴬᵃʳᵒⁿ ᵇᵘᵗ ˢᵐᵒˡ (@AaroniusH) July 5, 2021
SOUP SALAD BREADSTICKS
— ᴬᵃʳᵒⁿ ᵇᵘᵗ ˢᵐᵒˡ (@AaroniusH) July 6, 2021
FAMILY DOLLAR FOR LIFE
https://twitter.com/hslichtman/status/1412119534237065217
You can spend all day looking at these memes on Twitter. They seem to keep popping up!
More trending news here.
Comments
comments