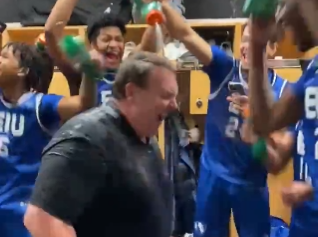 You may have missed this yesterday, but there was a gigantic upset in the world of college basketball.
Eastern Illinois University traveled to Iowa for a game that should have been a cakewalk for the Hawkeyes. EIU was a 31.5 point underdog and won. ESPN stats summarized it best:
There have been 90,000 men's college basketball games with lines over the last 30 years.
30 point underdogs were 0-558 over that stretch.
With the Eastern Illinois upset victory over Iowa, that record is now 1-558, making it one of the biggest upsets ever.
Watch the reaction when Eastern Illinois coach Marty Simmons came into the locker room to meet with the team after their upset….
Thst winning locker room feeling pic.twitter.com/Cav5V5xg2R

— Eastern Illinois Athletics (@EIU_Panthers) December 21, 2022
Congrats to Eastern Illinois on their huge win.
More Trending News here. 
Comments
comments