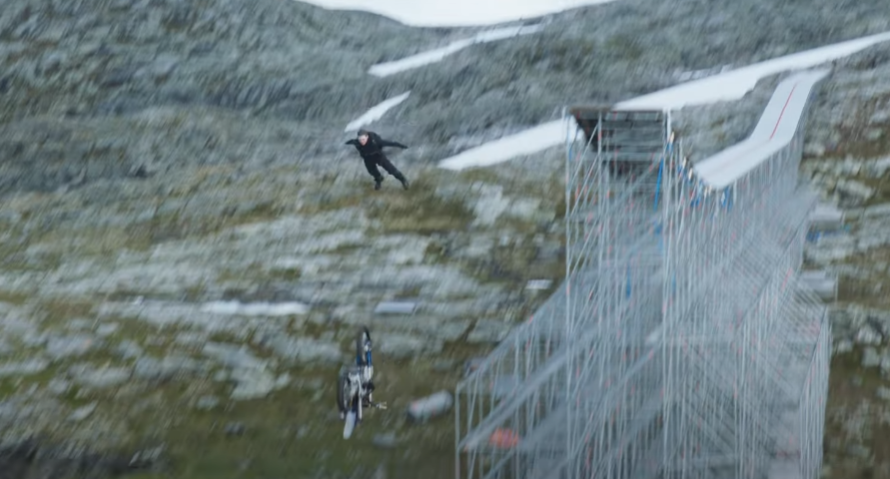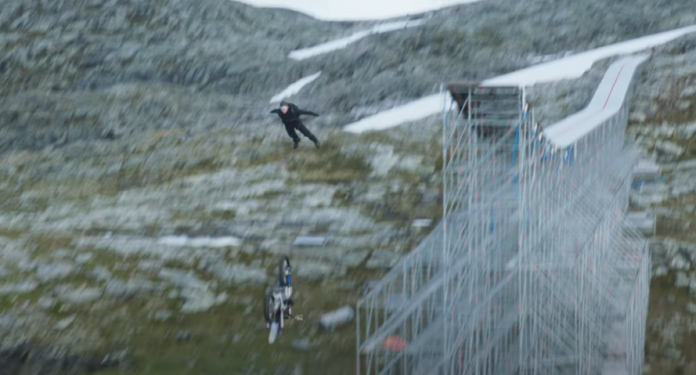 "Tom Cruise just rode a motorcycle off a cliff – SIX TIMES TODAY."
That's the line from the base jumping coach on the new movie "Mission Impossible: Dead Reckoning," talking about the latest death-defying stunt from Cruise. Paramount Pictures released a lengthy behind-the-scenes video showing all of the work went into pulling this off.
The scene features Cruise's character riding a motorcycle right off of a cliff. He lets go of the bike and eventually deploys a parachute to reach the ground. The crew built a huge ramp going right to the edge of the cliff. In the video, we see all of the prep work that went into this. It involved Cruise doing all kinds of motorcycle jumps elsewhere to get a feel for the bike and how it would work to let go of it mid-air.
Finally, we see the stunt in action and the relief of the crew when Cruise makes it out in one piece. Take a look at the video of the Tom Cruise stunt here…
After you watch that, take a look at the Mission: Impossible Dead Reckoning trailer again. You can see a finished shot of the stunt. The effects team created rock formations to hide the ramp that Cruise was riding on. Pretty cool stuff!
All of this comes to a day after Cruise released a video thanking fans of Top Gun: Maverick for making it the biggest movie of the year, and he recorded that thank you while falling in the sky.
Simply put, we are watching somebody at the top of their craft, enjoying every moment of their time at work. That time includes riding motorcycles off of cliffs and falling backwards out of helicopters. As somebody who gets to ride the biggest roller coasters on Earth while on the job, I can relate.
Sort of.
More trending news here. 
Comments
comments