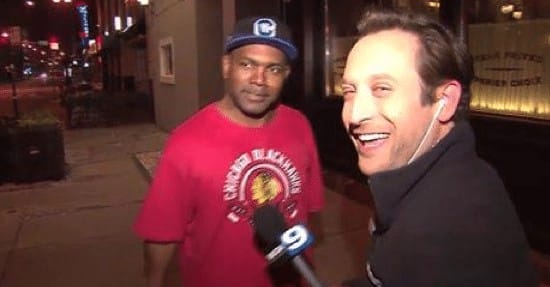 UPDATE: We found him!
It was just another morning after your home team wins the Stanley Cup.
I'm LIVE in River North on WGN Morning News. It's 4:15 a.m. The bars are closed. The Cup is nowhere to be found. The streets are empty.
Except for one person.
That short interview turned out to be the most-shared exchange of my career. Within a few hours, it had been retweeted hundreds, eventually thousands of times. On Facebook it was even bigger. I was getting messages from people all over the country who had seen the clip pop up on their favorite websites – Deadspin, Bleacher Report,  Uproxx and more.
There was a bigger picture here, too. The growth of hockey's African-American audience has been a much discussed topic as of late, especially here in Chicago. Awful Announcing posted our video and summed it all up nicely….
"There are black hockey fans (and players) out there, but the overriding perception is still of hockey as a very white sport, and past U.S. audience demographics seem to somewhat support that. However, that seems to be changing for both players and fans, and Chicago seems to be at the centre of that change; Shannon Ryan of The Chicago Tribune wrote an excellent piece last week citing numbers that suggest hockey's black audience is growing dramatically, and its black audience in Chicago in particular is on the rise. You wouldn't expect to see that issue addressed in a post-Stanley Cup man-on-the-street interview, but here we are. Ain't that something indeed."
The video had people talking and sharing everywhere. Later that night, it was featured on Jimmy Kimmel LIVE and The Tonight Show with Jimmy Fallon.
My WGN Morning News #Blackhawks fan interview was on Jimmy Kimmel Live & The Tonight Show Starring Jimmy Fallon last night. Anybody know this guy? Would love to catch up with him!Check out the clips…

Posted by Marcus Leshock on Wednesday, June 17, 2015
Unfortunately, this gentleman dropped the mic and walked away pretty quickly. We weren't able to get his name. We want to track him down – know him? I would love to put together a follow up for WGN Morning News and see what all of this attention has been like.
You can give me your tips through the Submit Your Story page here on the site, message me on Facebook, or send me a reply on Twitter.
Comments
comments