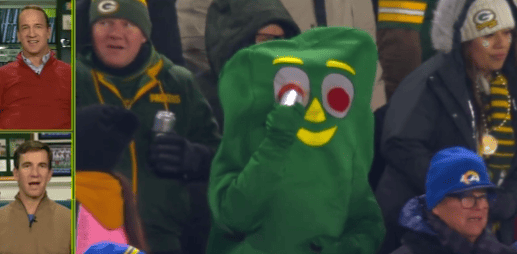 Sometimes the headline tells the entire story.
Last night the Green Bay Packers hosted the Los Angeles Rams at Lambeau Field on Monday Night Football. One fan got extra creative with their green and gold, opting for a gumby costume instead of your standard Packers jersey or jacket. But of course, even though you're in a full costume, you need to figure out a way to get the beer down.
All of this played out LIVE on the Manningcast on ESPN 2. Watch the guys react when Gumby drinks beer THROUGH HIS EYE….
https://twitter.com/espn/status/1605024550064115713?ref_src=twsrc%5Etfw%7Ctwcamp%5Etweetembed%7Ctwterm%5E1605024550064115713%7Ctwgr%5Ec9b413b3605033a2cea8448048b6e4331d1817cf%7Ctwcon%5Es1_&ref_url=https%3A%2F%2Fnypost.com%2F2022%2F12%2F19%2Fmanningcast-fan-in-gumby-suit-drinks-bear-through-eye-on-mnf%2F
Not sure about Pokey's whereabouts last night. Maybe he was in the bathroom.
More trending news here.
h/t ESPN
Comments
comments