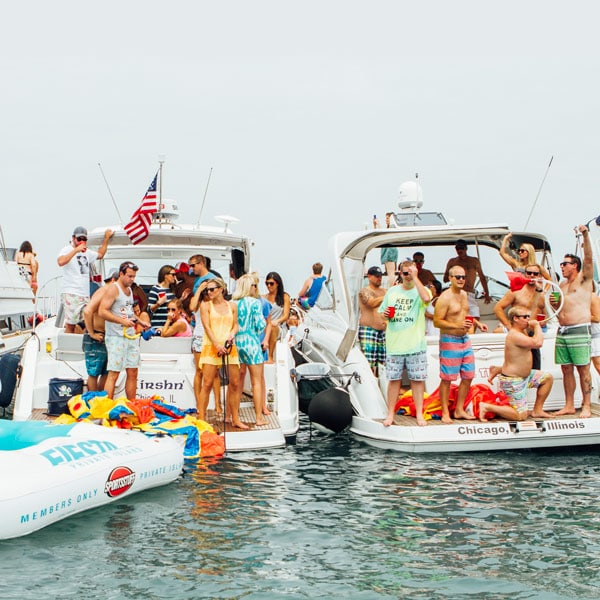 If you're new to the Chicago boating scene, you may have never heard of "The Playpen." It's a somewhat boxed-in section of Lake Michigan near the Water Treatment Plant at Navy Pier and Ohio Street Beach. Boaters often anchor out, blow up their tubes and just float around for hours on end.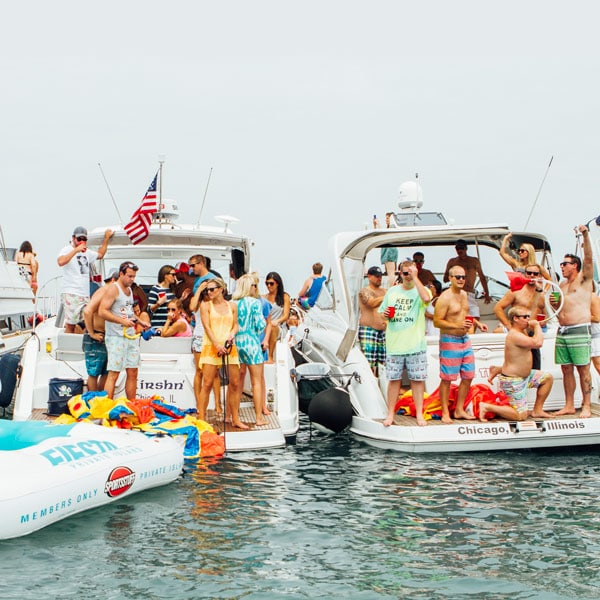 Every year, there is a gigantic party held by Chicago Scene in The Playpen, a party I've been invited out to on a few occasions. Each time I've passed, mostly because I'm in my 30's, also because of everything that is mentioned in this fantastic piece in the Chicago Reader. Here's just a snippet…
Since 9 AM, the Playpen scenesters have been forming chains as wide as 50 boats, with names like Buoys n the Hood, Martinis and Bikinis, Sea Monkey, Who's Your Daddy, and Honey I Shrunk My Wallet. Many vessels sport six-person "floating island" rafts attached to their tails. And by noon, the designated start, the festivities are well under way. One contingent has already broken out the red funnel beer bong to partake in a liquid lunch. Overhead, a plane whizzes by carrying a banner advertising, of all things, the release of a new Hilary Duff single. Close to the southwest end of the Playpen, Las Vegas DJ Quira is soundtracking the acrobatics of professional dancers Leigh Ann Reilly and Amy Raven, who are taking turns on a stripper pole that's attached to the fly bridge of The Flying Lady, a 60-foot Carver yacht owned by Chicago real estate agent and businessman David Izsak.

Because straight males dominate boat ownership, the access to party hopping in the Playpen tends to be gendered and sexist in ways reminiscent of your average mainstream nightclubs. "Liquor and women, unfortunately, are like currency out here. You've got to have a cute girl or a bottle," says a female real estate agent who frequents the Playpen despite unease with the gender politics of the place. "As a guy, you can drive an itty-bitty boat—as long as you have a bunch of hot bitches, you're fine."
I recommend you take in the rest of Jake Malooley's fantastic long-read. He gets into how this is able to happen without anybody getting arrested and how loopholes in the law create a sort-of "anything goes" atmosphere. READ IT.
h/t Casey Toner
Comments
comments