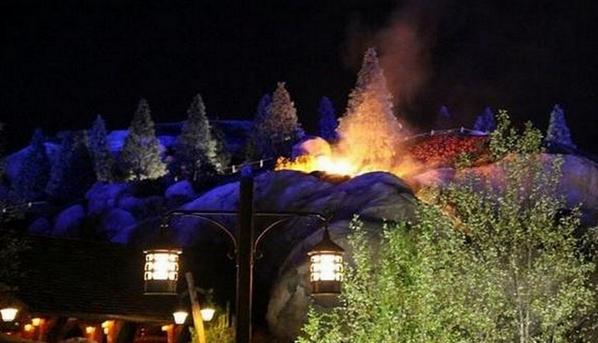 when the 7 dwarfs mine train catches on fire… #casual pic.twitter.com/8Dh9FFAtRC

— Laney Risner (@laneyrisner) November 2, 2014
A small fire broke out on one of Walt Disney World's high-profile new attractions last night, but it reportedly had nothing to do with the ride or its operation system. The incident happened on the Seven Dwarfs Mine Train at Magic Kingdom. According to a spokesperson from the park, fireworks were to blame. From CNN…
Embers from fireworks at Magic Kingdom ignited a small fire at Disney World's latest ride, the Seven Dwarfs Mine Train, on Saturday night.
The fire was quickly put out, and no one was hurt, a Disney spokeswoman said. The nightly fireworks had just ended when embers landed on the building outside the attraction about 10:30 p.m., igniting the fire, the spokeswoman said.
The good news – nobody was hurt, the  roller coaster wasn't affected and it reopened for riding around midnight last night. Here are some of the images and videos from Magic Kingdom visitors…..    
Seven dwarfs mine train ride in WDW has caught fire due to a firework remain from the fireworks show. Breaks my heart pic.twitter.com/SUs4k8sbQE — shelby hughes (@shelbykhughes) November 2, 2014
7 Dwarves Mine Train is on fire! Friends just sent me these photos pic.twitter.com/LEKsQXqIfE

— 6 Weeks of Torture (@ladynwonderland) November 2, 2014
Video: Seven Dwarfs Mine Train re-opens after very minor fire tonight. https://t.co/Sj6RoBf5kf — Theme Park Review (@ThemeParkReview) November 2, 2014
Comments
comments