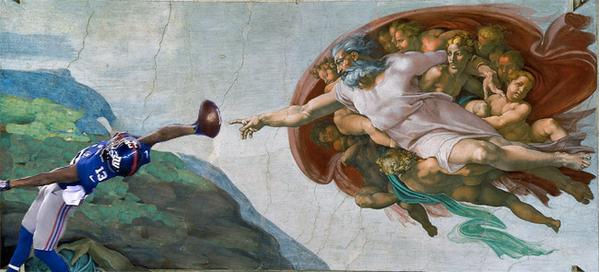 It was a rare moment where everybody on the internet seemed to agree. The Odell Beckham Jr catch. That's all you need to say – it was THE catch of the 2014 NFL season. In contention for greatest catch of all time. In case you missed it…..GIF via Deadspin….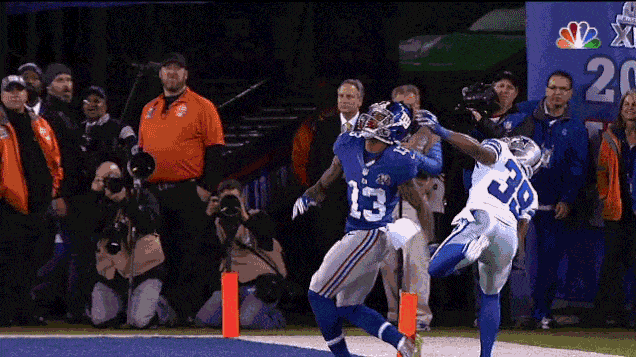 Not only did the New York Giants wide receiver fight off defensive pass interference, but it appears Beckham caught that ball with three fingers, bending backwards and still getting that elbow down in bounds in the corner of the end zone.
The reaction was immediate. Fans took to Twitter with their thoughts on what they had just seen. Check out some of the best reaction below….
Odell Beckham Jr.'s one-handers were already the stuff of legend: http://t.co/428plsnxAG https://t.co/tMn2ktXPkv

— SB Nation (@SBNation) November 24, 2014
Annexation of Puerto Rico RT @dpez52: Shot of Beckham Jr. before the game. #DALvsNYG pic.twitter.com/1eDCA7BMwD — Robert Flores (@RoFloESPN) November 24, 2014
The Odell Beckham Jr. Starter Pack pic.twitter.com/osXZu1NZnV

— Eli Langer (@EliLanger) November 24, 2014
Still in awe of Odell Beckham Jr.? You are not alone.. pic.twitter.com/enn0jkXstX — 120 Sports (@120Sports) November 24, 2014
— nick pants (@nick_pants) November 24, 2014
ohhhhhhhh my god yes RT @biggiesnotdead: @Lana @PlayaKB Just heavenly. pic.twitter.com/IWD5sMNUAh — Lana Berry (@Lana) November 24, 2014
@SBNation @nick_pants @felixpotvin (Don't tell anyone I did it on powerpoint.) pic.twitter.com/SRQAQYZyPU

— PAT (@mystampsezpat) November 24, 2014
Not again, Bartman! http://t.co/YRElpGfj66 pic.twitter.com/L8q52iUgqK — KorkedBats.com (@korkedbats) November 24, 2014
Comments
comments